Geller Vs Detroit: City Declares Islam is "Political" — Gamechanger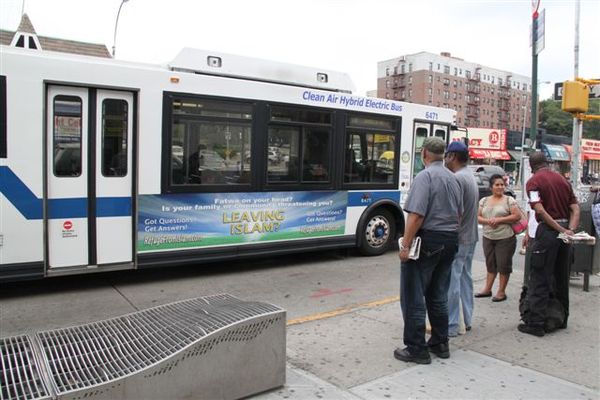 New York City Freedom Bus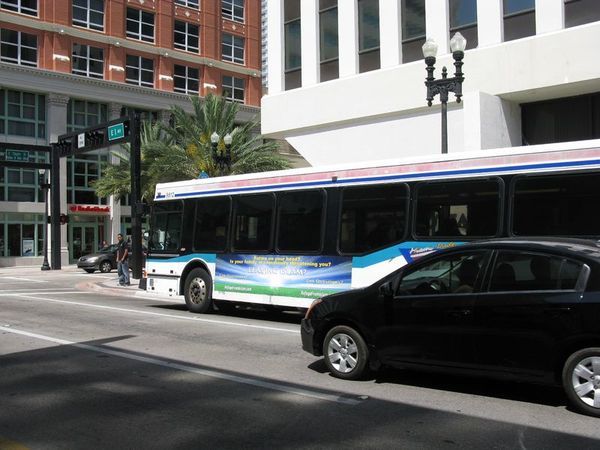 Freedom bus, Miami Beach
In the coming weeks I will be testifying in the suit I have filed against the city of Detroit for violation of free speech for refusing our pro-freedom bus ads that are currently running in New York City and Miami.
I thought Atlas readers and SIOA members would get a charge out of Detroit Transit's (SMART's) reply to the suit. They are calling the ads ….political. So is the city of Detroit a political system? Are they finally admitting that Islam is a religious, legal, political, economic and military system?
My lawsuit contends that we were denied the right to express a religious freedom message in a public forum created by the defendants based on the content and viewpoint.
Here are excerpts: Download SMARToppositiontoMPI
This case involves a political organization's attempt to promote their political agenda by placing anti-Islamic political advertisements on SMART buses that operate throughout southeast, Michigan. Such political advertisements are in violation of SMART's established, consistently applied and viewpoint neutral advertising policy, and, as such, were properly prohibited.
Ah, yes, but they have run other ads of this nature. So what are they saying? They support the killing of apostates?
Further, in the creation and administration of this policy, SMART has established and maintained a nonpublic forum in which political advertisement was never allowed.
How is help for Muslims in trouble a political message?
Detroit Transit (SMART) is trying to wrongly convert a viewpoint restriction (not allowed) into a content restriction (permitted in some cases). For example, an anti G-d ad is purely religious, but my ads and the pro life ad (which didn't oppose abortion, but only sought to provide Jesus to those who had had an abortion) are political. Further, they put me in the category of inviting ridicule/scorn. If anyone is the object of ridicule and scorn, it's the Detroit transit system.
More on the political nature of our religious liberty ads:
….. Offeror shall not allow the following content: 1. Political or political campaign advertising. 2. Advertising promoting the sale of alcohol or tobacco. 3. Advertising that is false, misleading, or deceptive. 4. Advertising that is clearly defamatory or likely to hold up to scorn or ridicule any person or group of persons. 5. Advertising that is obscene or pornographic; or in advocacy of imminent lawlessness or unlawful violent action.
[...]
B. Throughout the term of the Contract SMART has actively enforced this policy and has rejected all advertising deemed to violate the Authority's content policy. For example, SMART has previously rejected proposed advertisements deemed to violate the policy which were deemed to be political (Ex. B),…..
It seems also that Rachel's Vineyard had a very good case. How was their ad "political"? And why were ads promoting atheism OK? The atheist ads ran in a month-long run campaign on a dozen Suburban Mobility Authority for Regional Transportation (SMART) buses. They show the words "Don't believe in God? You are not alone" superimposed on an image of blue sky and clouds.
On or about May 12, 2010, Plaintiff Geller contacted CBS Sales Manager Robert Hawkins regarding the potential posting of advertisements on SMART buses. The advertisement proposed by Defendants states "Fatwa on your head? Is your family or community threatening you? LEAVING ISLAM? Got Questions? Get Answers! RefugeFromIslam.com". (Ex. D). As set forth in the Contract, having determined that the advertising was a likely violation of the Contract's content policy, CBS contacted SMART requesting a final determination. (Hawkins Affidavit, Ex. E). SMART Marketing Manager Beth Gibbons reviewed the proposed advertisement and discussed it with staff giving it careful consideration. SMART determined that Case 2:10-cv-12134-DPH-MJH Document 12 Filed 07/02/10 Page 6 of 19 7 the proposed advertisement violated at least two enumerated prohibitions within the content policy. Specifically, it was found that the proposed advertisement was in violation of Contract Section 5.07(B)(1), as political advertising, and Section 5.07(B)(4), as likely to hold up to scorn and ridicule a group of persons. SMART therefore rejected the proposed advertisement.
So Islam is political? That's a game changer, folks.
You have to love how "SMART Marketing Manager Beth Gibbons reviewed the proposed advertisement and discussed it with staff giving it careful consideration" ….. where was the careful consideration for apostates?