PROTEST THE 911 MEGA MOSQUE ON SUNDAY JUNE 6TH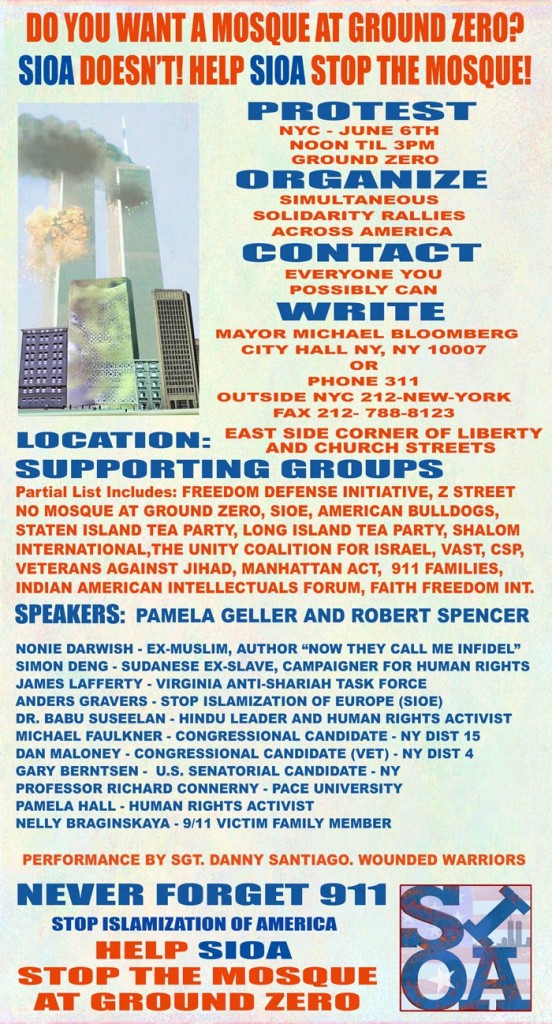 BE THERE AT THE CORNER OF CHURCH AND LIBERTY TO PROTEST THE ISLAMIC SUPREMACIST MOSQUE AT GROUND ZERO.
SIOA Rally June 6 Against Islamic Supremacist Mosque At Ground Zero
The human rights group Stop Islamization of America (SIOA) is hosting a rally in lower Manhattan on June 6 at 12 o'clock noon, to protest the planned construction by Islamic supremacists of a large mosque overlooking Ground Zero.
SIOA is one of America's foremost organizations defending human rights, religious liberty, and the freedom of speech against Islamic supremacist intimidation and attempts to bring elements of Sharia to the United States.
Join SIOA's Facebook page here.
The SIOA No 9/11 Mosque Rally will be at the corner of Church and Liberty Streets, near Ground Zero. Supporting groups include the Freedom Defense Initiative; ACT for America (ACT Manhattan chapter); Z Street; SIOE; No Mosque at Ground Zero; Staten Island Tea Party; American Bulldogs; VAST; the Center for Security Policy; Shalom International; the Unity Coalition for Israel; 911 Families; Indian American Intellectuals Forum; Veterans Against Jihad (VAJ); and Faith Freedom International.
Speakers will include Nonie Darwish, ex-Muslim and author of Now They Call Me Infidel; Simon Deng, the Sudanese ex-slave and campaigner for human rights for Sudanese Christians; Nelly Braginskaya, Â 9/11 Family Member who lost her son; James Lafferty of the Virginia Anti-Shariah Task Force; Anders Gravers of Stop Islamisation of Europe (SIOE); leader and human rights activist Dr. Babu Suseelan; Congressional candidates Michael Faulkner (NY Dist. 15), Dan Maloney (NY Dist. 4) and Gary Berntsen (NY Dist. 1); author Richard Connerney, a philosophy professor at Pace University; and human rights activist Pamela Hall. Also speaking will be friends and relatives of victims of the 9/11 attacks.
In addition, the rally will feature an inspiring performance by singing sensation Danny Santiago of Wounded Warriors.
Hosting the event are SIOA executive director Pamela Geller, the popular blogger and columnist who publishes the acclaimed AtlasShrugs.com blog, and SIOA associate director Robert Spencer, the bestselling author and director of JihadWatch.org. Geller is the author (with Spencer) of The Post-American Presidency: The Obama Administration's War on America (Foreword by Ambassador John Bolton), coming July 27 from Simon & Schuster.
Building the Ground Zero mosque is not an issue of religious freedom, but of resisting an effort to insult the victims of 9/11 and to establish a beachhead for political Islam and Islamic supremacism in New York. Ground Zero mosque imam Feisal Abdul Rauf is an open proponent of Sharia, Islamic law, a system that denies the freedom of speech, the freedom of conscience, and the equality of rights of all people before the law.
Abdul Rauf has said that "an Islamic state can be established in more then just a single form or mold. It can be established through a kingdom or a democracy. The important issue is to establish the general fundamentals of Shariah that are required to govern." Thus it is clear that this mosque will teach Sharia, Islamic supremacism, and the denial of basic rights.
Abdul Rauf and other mosque organizers have been inconsistent and deceptive about whether their planned Islamic Center at Ground Zero will contain a mosque; ultimately they have admitted that it will. Belying his claim that this mosque will become a place for interreligious harmony, he has told the Arabic press: "I don't believe in religious dialogue."
Abdul Rauf has been deceptive on other occasions as well. He has told the English-language press that mosque funding will come entirely from Muslims in America, while telling the Arabic-language press that many Muslim countries are contributing to funding for the mosque. His wife Daisy Khan has trivialized and insulted the memories of the victims of the 9/11 jihad attacks by saying that the mosque is intended to "make something positive out of 9/11."
SIOA is calling upon the Imam Feisal and other mosque organizers to withdraw their plans of the Ground Zero mosque in the interests of mutual understanding and mutual respect. Ground Zero is a war memorial, a burial ground. Respect it.